Company news, updates and developments.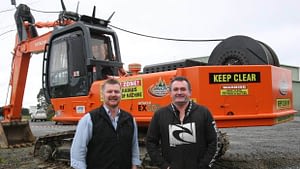 Dale Ewers' leading steep slope logging innovations keep loggers alive. The bonus is they have also caught the eye of Chilean foresters. Ewers, the chief
Read More »
If you need a clear demonstration of how safety conscious harvesting contractors have become in the past decade, the sale of the 150th Falcon Winch-Assist machine provides convincing evidence.
Read More »
For the past decade, Nelson businessman Dale Ewers' goal has been to get workers in the logging industry out of harm's way.
Read More »